The Sheffield Group Supports Senior Ride

Travelers Aid is grateful to The Sheffield Group for making a positive impact in our community! We appreciate your support of our Senior Ride program and helping us provide a transportation lifeline to health care for elderly and disabled adults.
Travelers Aid Receives "Pay It Forward With Rod McClure" Grant
We are so grateful for Travelers Aid's Senior Ride Program to have been selected for a $2,000 "Pay It Forward With Rod" grant, sponsored by Rod McClure and his family.
Pay It Forward With Rod "stimulus checks" were awarded to Frontline Community Organizations across all nine (9) districts of Birmingham who are making an impact in our community. Each organization chosen was granted an award of $2000. Rod and his family's way of saying Thank You for all You Do.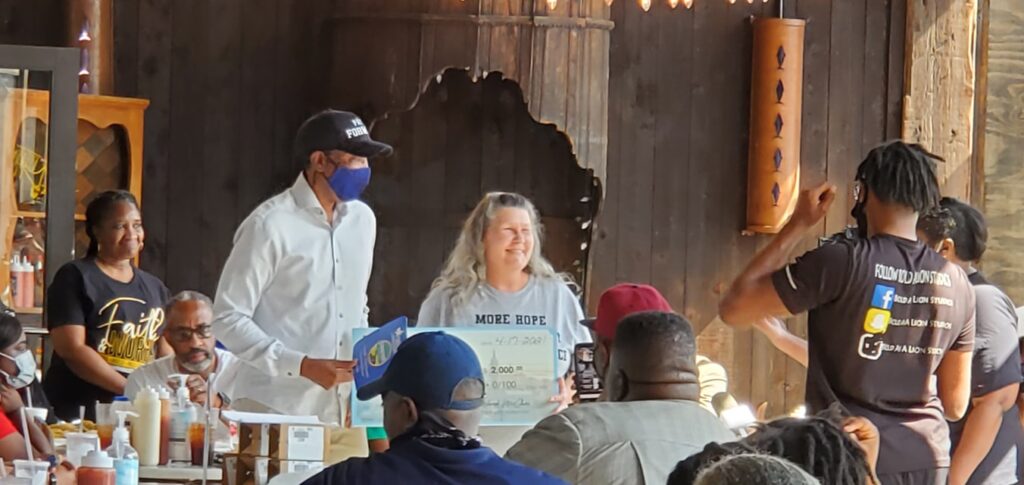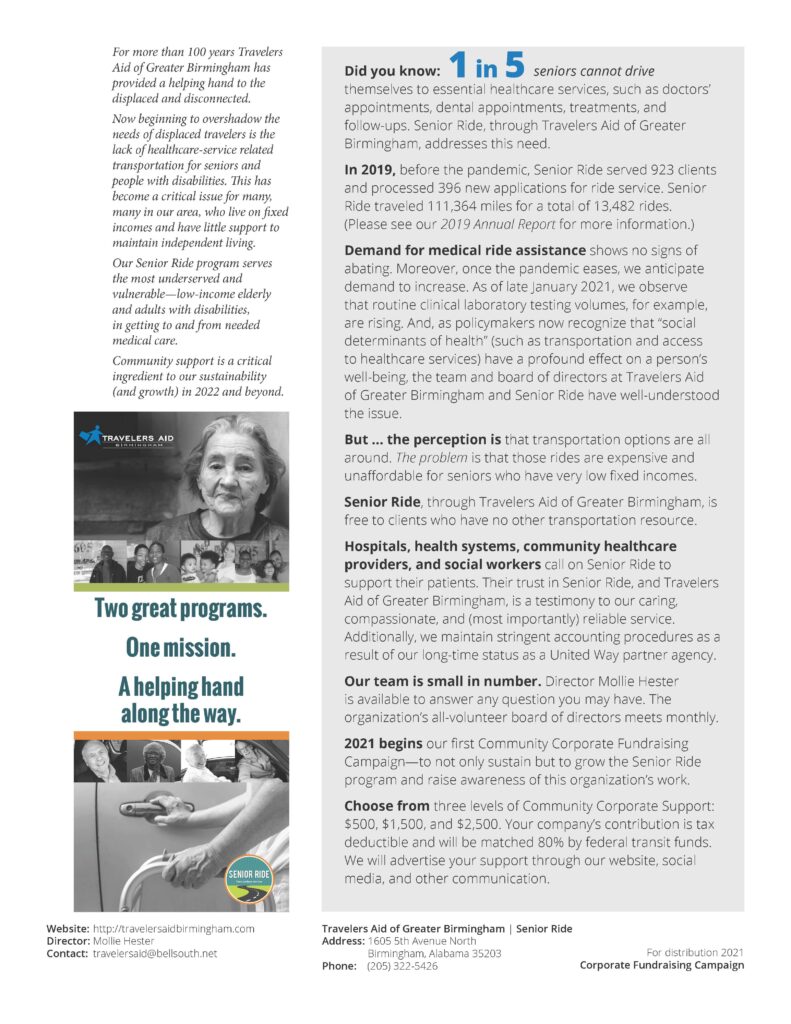 Travelers Aid and Senior Ride announce the kickoff of its first Community Corporate Fundraising Campaign
Established in 1907, Travelers Aid of Greater Birmingham is a 501(c)(3) charitable organization, a founding member of Travelers Aid International, and a United Way of Central Alabama partner agency. While better known for serving the "traveling public", Travelers Aid also has an important role in Birmingham's transportation network as a provider of free medical transportation for low-income elderly and disabled adults.
"Community financial support plays an essential role in our overall funding process for the coming year. Corporate sponsorships will enable needed healthcare rides for a most underserved population of low-income elderly people and those with disabilities in the Greater Birmingham area," said Liz Carey, Chair of the Fundraising Committee for Travelers Aid.
In 2019, before the pandemic, Senior Ride served 923 individuals, processed 396 new applications for ride service, and sponsored over 13,000 free rides. As of March 2021, the Senior Ride database has over 2,500 people certified to utilize its services.
"Travelers Aid has a long history serving the Greater Birmingham area. Hospitals, health systems, social agencies, and faith-based organizations trust this program and organization to assist their patients who typically have no means of reliable transportation to needed healthcare appointments," explained Carey.
"The problem is that Travelers Aid and Senior Ride are only well-known to these essential service providers, and the United Way as a partner agency, but not so much to the general public or companies that would welcome an invitation to support what Travelers Aid and Senior Ride provide. Reliable transportation to critical healthcare services is just one of the challenges of aging in place and aging in place with disabilities," Carey continued. "Travelers Aid and Senior Ride solve a very real and now growing problem in our community."
This—the organization's first-ever Community Corporate Fundraising Campaign—offers three levels of financial support—$500, $1,500, and $2,500. A federal grant reimburses 80% of all eligible ride costs with the other 20% coming from community funds.  Businesses throughout the greater Birmingham area are asked to consider supporting Senior Ride and assist us with our community support match. For the company's contribution, Travelers Aid will advertise support through our website, social media, and other communications.
Travelers Aid-2019 Annual Report
Senior Ride Receives 2018 & 2019 Grant Funds
We are proud to announce our 2019 Senior Ride funding partners and express our deep appreciation for their support.  These partners enable us to fulfill Senior Ride's mission- Connecting low income elderly and adults with disabilities to medical care and a healthier quality of life-and serve hundreds of people in our community every year.
Long time Travelers Aid worker, Shirley Moffett, Retires
                                                                                                                                    
Long time Senior Ride Coordinator Shirley Moffett retired from Travelers Aid on November 30, 2018 after 44 years of service to the organization.  A reception was held in her honor at United Way of Central Alabama.  Shirley was recognized by  current and former Travelers Aid Board and staff, her family, and her many friends for her dedication to serving elderly people in our community.  She was presented with an engraved bracelet, a commemorative plaque and a retirement gift from the Travelers Aid Board of Directors in appreciation for her many years with the agency.
Senior Ride 2018 Holiday Gift Bag Project
Two weeks before Christmas our staff hand delivered gift bags to 100 of our elderly and disabled Senior Ride clients.  It was a privilege to meet and put faces to names & voices, but the smiles and hugs were the very best, priceless!  We are grateful to our friends at Viva Health for helping us with the Senior Ride Holiday Gift Project this year by holding a Christmas in July donation drive!
2019 Dixie Vintage Antique & Classic Car Show

THANK YOU DIXIE VINTAGE
For an amazing day of fun, wonderful friends, your long time support for Travelers Aid and of course, the most awesome classic cars!
The April 27th 2019 annual Dixie Vintage Antique & Classic Car Show was, once again, a successful event.  We appreciate all the work that went into the planning, the businesses that supported it, but most of all the Dixie Vintage club members who brought their cars out and most especially the many  volunteers who spent countless hours to make it such a success.