Senior Ride
Connecting low income elderly and adults with disabilities to medical care, independence and a healthier quality of life
A

 Quality Of Life Issue
For many senior citizens and disabled individuals on fixed incomes, lack of transportation is a huge barrier to accessing health care. The Senior Ride Program makes available free transportation to medical-related appointments for people in these situations. Without available transportation many seniors are at risk of:
Having to choose between paying for food, medicine or a ride to the doctor
A medical crisis resulting in emergency treatment or hospitalization
A diminished quality of health and life
Isolation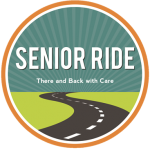 Makes free transportation available to medical appointments for very low-income senior citizens and adults with disabilities by contracting with a transportation provider
Pays the passenger fare
Screens for eligibility
Directs clients to transportation and other services when appropriate
Coordinates travel with the client, the health care provider and transportation provider
By the Numbers for 2017
11,206 free rides for 744 low income elderly and disabled
Free rides supported by funding from the Birmingham Jefferson County Transit Authority and Federal Section 5310 grant funding; Beeson Trust Team-Canterbury United Methodist Church; Community Foundation of Greater Birmingham, United Way of Central Alabama, the Dixie Vintage Antique Automobile Club, and The EyeSight Foundation of Alabama.
                                Look for our Senior Ride logo on our                                                    transportation partners' (Need A Ride) vans!