News & Events
Senior Ride 2017 Holiday Gift Bag Project
Two weeks before Christmas our staff & Junior Board hand delivered gift bags to 100 of our elderly and disabled Senior Ride clients.  It was a privelge to meet and put faces to names & voices, but the smiles and hugs … Continue reading →
Senior Ride Receives 2017 Grant Funds
We are proud to announce our 2017 Senior Ride funding partners and express our deep appreciation for their support.  These partners enable us to fulfill Senior Ride's mission- Connecting low income elderly and adults with disabilities to medical care and a healthier quality … Continue reading →
2018 Dixie Vintage Antique & Classic Car Show
We're excited for the 2018 Dixie Vintage Antique & Classic Car show coming up soon on Saturday April 14th at Oak Mountain State Park Gates open at 7:00 a.m.  Registration starts at 8:00 a.m.  Awards start at 2:00 p.m. Food, … Continue reading →
2018 Dixie Vintage Antique & Classic Car Show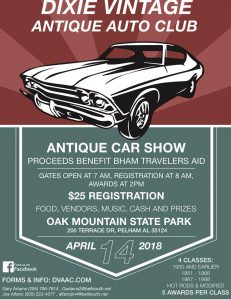 We're excited for the 2018 Dixie Vintage Antique & Classic Car show coming up soon on Saturday April 14th at Oak Mountain State Park
Gates open at 7:00 a.m.  Registration starts at 8:00 a.m.  Awards start at 2:00 p.m.
Food, music, vendors, cash and prizes!
Look forward to an awesome Saturday with plenty of fun and fabulous classic cars!
Sponsorship opportunities are available!
Contact : Gadams2@bellsouth.net or 205-706-7614 for more information on how you can become a sponsor and help low income elderly in our community stay healthier and independent longer.
              Proceeds benefit Senior Ride